Toilet, labeled The Buffoon, is a male supporting character on Inanimate Insanity II, and the assistant of MePhone4.
Personality
Toilet is a loud, impolite, argumentative, and obnoxious buffoon, who is the half-witted assistant of MePhone4. Although MePhone4 has shown his displeasure of Toilet's assistance, Toilet appears to be quite absentminded and oblivious to the fact, and continues with his job with a happy and enthusiastic attitude. When speaking, Toilet has a British Cockney-eqsue accent, using his lid as his mouth. He also possesses the odd power of jumping and floating around in the air for short rapid amounts of time, especially in Episode 8. Toilet is known for his trademark habit of calling MePhone4 "Mr. Phone", whom he appears very fond and attached to. In the episode Everything's A-OJ, it is revealed that he will do anything for MePhone4.
Coverage

Click here to view the coverage of Toilet.
Voice Actors
Taylor Grodin (US/UK/AU/CAN)
Marco Bonomo (Italy)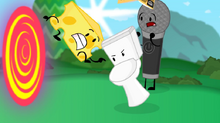 Trivia
Running Gag: Toilet is always calling MePhone4 "MISTAH PHONE!"
Running Gag: MePhone4 is almost always sending Toilet to get wires.
Toilet's voice was revealed to be inspired by Maxmoefoe's prank phone calls.
Toilet is the 3rd limbless character, along with Box and Spikey Mervert.

He does, however, move around by jumping and floating.

Although Toilet does not possess a handle, he has shown the ability to flush himself.
Toilet is the fourth character to appear with an accent, his being of Cockney-esque.
Toilet seems to like cats, as seen in Episode 9 the pink card that Toilet likes has a "kitty" on it. He also likes the color pink.
Gallery
Inanimate Insanity Characters
Ad blocker interference detected!
Wikia is a free-to-use site that makes money from advertising. We have a modified experience for viewers using ad blockers

Wikia is not accessible if you've made further modifications. Remove the custom ad blocker rule(s) and the page will load as expected.