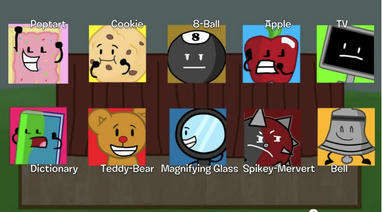 Recommended Characters are characters that appear on Inanimate Insanity via recommendation by viewers. So far, only Apple and Yin-Yang are the only two recommended characters to join Inanimate Insanity and Inanimate Insanity II.
In A New Stage in the Game, 10 recommended characters are revealed to the viewers, given that one would join the game in the next episode after a recommended character challenge.
The recommended characters were as followed:
In War De Guacamole, the 10 contestants from the previous episode were welcomed to the show, and immediately introduced to the exploding paintgun challenge. The challenge goes as follows:
| Victim(s) | Destroyed By: |
| --- | --- |
| Poptart | Teddy Bear |
| Magnifying Glass and 8-Ball | Teddy Bear |
| Cookie | Apple/Teddy Bear |
| TV | Teddy Bear |
| Dictionary | Teddy Bear |
| Bell | Teddy Bear |
| Spikey-Mervert | Apple |
| Teddy Bear | Apple |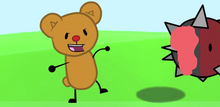 After the paintgun challenge, the last recommended character standing is Apple, rendering her the winner, and thus, the first recommended character to join the game. She later joins Team Epic, after they win the obstacle course challenge.
Before the first episode was released, there was a contest to determine the last newbie to participate during Season 2 during a t-shirt contest. Only 4 managed to complete it, and the viewers ended up voting for whoever's user had the best character once recommending them, and Adam announcing it.
Banana - recommended by OfficialMatrVincent - Voiced by Adam Katz
Yin-Yang - recommended by BFDIdubita23 - Voiced by Marco Bonomo
Guitar - recommended by waluigifreak789 - Voiced by Adam Katz
Rubber Ball - recommended by LegoTD61 - Voiced by Braden Whiteside
Yin-Yang won this t-shirt contest, and also had a right to voice act the character. Although no new recommended characters have appeared
during
Season 2, except
Milk
, recommended by DesuUsagi, the current voice actor for Marshmallow. Teddy Bear does in fact make a cameo in
Everything's A-OJ
in the back of the courtroom.
Apple
does re-appear in this season, too. Magnifying Glass also re-appears in Episode 10 before the spoiled lemons concert starts.
Trivia
8-Ball, Bell, Dictionary and TV tried to join BFDI as well.

Dictionary actually did join BFDI in BFDIA, though they were referred to as "Book."
Spiky Mervert also made a cameo appearance as a Recommended Character of the Season 1 episode "Don't Pierce My Flesh."
TV didn't join BFDIA but he is the host.
Inanimate Insanity Characters
Ad blocker interference detected!
Wikia is a free-to-use site that makes money from advertising. We have a modified experience for viewers using ad blockers

Wikia is not accessible if you've made further modifications. Remove the custom ad blocker rule(s) and the page will load as expected.