"Kick the Bucket" is the 11th episode in the second season of Inanimate Insanity, and the 29th episode overall. It was released as a two-part episode, the first part released on December 23, 2016, and the second part released on February 4, 2017. A combined full version was released on March 25, 2017.
Description
After MePad catches a contestant breaking the rules, tensions begin to overflow. Some are able to plug up the holes in their relationships and are all the better for it! However, others manage to sink further. When they empty themselves of their conflicting emotions, new feelings are filled right in their place, and not all of them are positive! Just as water goes through an infinite cycle, there appears to be no end in sight for some of these perpetually damaged connections. That is, unless someone were to finally break the chain.
Also, there is a crab.
Plot
Marshmallow is seen walking towards the Purgatory Mansion, only for MePad to try and stop her. With that, she runs off. When she gets in the mansion, she calls out for Bow but instead gets greeted by Dough. Bow soon comes over and then complains about Dough after he interrupts her.
Balloon is talking to Suitcase about how he hopes that the contest is shell collecting. MePhone4 comes over, demanding the Bright Lights for elimination to Fan's delight and Test Tube and Paintbrush's confusion. On the way there, Toilet tries to tell MePhone that there isn't supposed to be an elimination. MePhone soon realizes that. He then introduces the challenge, which is Bucket Brigade. MePhone then explains the rules. After seeing Balloon trying to bond with Suitcase, Nickel drags her, along with Baseball, to ask her to stop talking to Balloon. With that, Baseball talks to Nickel privately about how he should let Suitcase choose her own friends. Nickel then tells Suitcase that she can choose the job Balloon gets for this challenge and she choose for him to by the lake and passing the buckets of water to the rest of his team. Nickel reluctantly agrees.
In the forest, Taco realizes that this challenge is a test of Balloon's ability and has a plan to sabotage him. She gives Microphone a taser but she disagrees to this plan. She then takes the taser but as soon she gets to the dock, she drops the taser and lowers her gain so she doesn't need to hear Taco's disappointment. Instead, she goes up and talks to Balloon, saying that she believes that he has a chance of getting eliminated. This lowers Balloon's self esteem.
Features
Characters
Bright Lights
Grand Slams
Meeple
Supporting
Locations
Production Notes
Continuity
Cultural References
Trivia
Errors
Gallery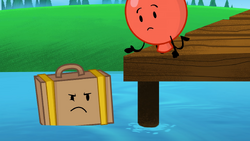 Click here to view the gallery.
Videos
References
Inanimate Insanity Episodes