In
Breaking The Ice
, after debuting with the other Season 2 Novices, The cherries were insulted by
Lightbulb
, which degraded them as substitutes. The Cherries also expressed satisfaction at
Cheesy
's joke about Lightbulb, but then not impressed with his joke about
Fan
. In the glacier, the cherries were concerned that
Paintbrush
will push them out, without knowing what they were, which fell and accidentally bumped into
Microphone
, making her yell, blowing the cherries, along with many other competitors off the iceberg. After that, the cherries were placed on Lightbulb's team, the
Bright Lights
. Later in the contest, The Cherries managed to beat
Box
out of the game, however, his team lost later, and were up for elimination.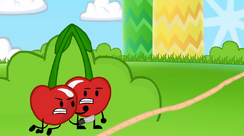 In
Marsh on Mars
, the Cherries tell a joke to
Soap
, such as a double acted by a
Marshmallow
and
Apple
's argument. However, Apple and Marshmallow contributed to the joke, breaking
Test Tube
in the process, making off with the Cherries to invade after claiming that his joke was ruined. Later, the Cherries create a trap that sends Marshmallow to space, and blame
Box
. Later, they reveal themselves in safe disposal, with the 4th most amount of votes at 184, but using a telescope to find Marshmallow is on
Mars
. During the challenge, the Cherries tell
Fan
that he has to compete, which is apparently blogging about the cherries on his computer, then they felt very uncomfortable. The Cherries' team was then to eliminate, as the
Grand Slams
recovered Marshmallow from Mars first.
In Tri Your Best, the Cherries are eliminated with 974 votes, and admitted that the Cherries sent Marshmallow to Mars, because nobody laughed at their joke, and apologize to Box. Before entering the Rejection Portal, the Cherries are about to say one last thing, but were kicked into the portal by Yang.
In
A Kick in the Right Direction
, the Cherries appear in the MeLife Recovery Center.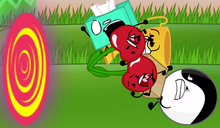 In Everything's A-OJ, Cherries played a relatively minor role. They first appeared falling to the ground after the door opened. During the song,(Keep On Cleaning) Nickel angrily questions if there was going to be another verse to the song, with them replying that another one was coming. Not doing much after that, rather than sitting down with the other eliminated contestants, they were fisted back to the Rejection Portal, but were sent to a portion of the hotel.